About Us
VAUSA is a one-of-a-kind organization with a unique heritage and culture. We have come together to preserve the legacy of our ancestors' courage and devotion through public service. We have shared that common purpose by serving in uniform. Our compassion and respect for each other are the bedrock for our existence. Our volunteer work with responsiveness and creativity sets the Association's foundation for advancement. Collectively, we have unlimited potential.
CORE VALUES: Patriotism • Excellence • Pride • Support • Integrity
MOTTO: Honor our Past • Recognize our Present • Promote our Future
MISSION:
VAUSA fosters an environment for its members to reach their fullest potential by offering professional development while supporting their families, honoring VAUSA members' heritage, sharing their experiences, all through various means of social engagement and support.
VISION: Building a prestigious organization that comprises generations of devotion to uniformed service and a family-style network of selfless professionals.
GUIDING PRINCIPLES:
1. We honor our heritage and the sacrifices made by those who have come before us by demonstrating the highest moral values and standards of conduct, whether we are in uniform or veterans.
2. We commit to the professional development of our members by providing timely and relevant mentorship from experienced leaders who have achieved personal and career successes.
3. We underscore the value of our military service by assisting our members and their families in terms of brother/sister-in-arms, as well as participating in or collaborating with like-minded organizations and communities through civic engagement activities.
DECLARATION:
VAUSA is an apolitical organization.
VAUSA is an independent non-profit organization organized exclusively for charitable and educational purposes as specified in the Internal Revenue Code section 501(c)(19).
NAME OF THE ASSOCIATION
1. Vietnamese American Uniformed Services Association (VAUSA)
2. It is known in Vietnamese as "Hội Quân Nhân Mỹ Gốc Việt"
THE SEAL OF THE ASSOCIATION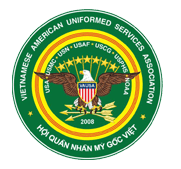 The seal shall have a circular shape
At the center of the seal is the American eagle with VAUSA's name, on its shield. It represents all members who will serve under the Department of Defense during war times
Above the American eagle are eight gold stars. Each star represents one of the eight uniformed services
The inner yellow band with three red stripes represents the flag of the former Republic of Vietnam. It signifies VAUSA members' heritage.
Outside and above the flag circle is VAUSA's name in English
Outside and below the flag circle is VAUSA's name in Vietnamese
Inside the flag circle are the names of the eight uniformed services of the United States
Under the logo is "2008", the year in which the Association was established
The green background represents the color of the rice fields in Vietnam
HISTORY OF THE ASSOCIATION
In the Spring of 2007, then Lieutenant Commander Christopher V. Phan, Judge Advocate General's Corps, USN, was deployed with the US Navy SEAL to Iraq. He and several of the SEALs were trying to arrange a flight out of Baghdad when then Major Tho V. Nguyen, USA, overheard LCDR Phan speaking at the reservation counter. The men struck up a conversation on the airfield and made a commitment that they would stay in touch upon redeployment to the States.
True to their words, both of them remained friends after their deployment. They both knew and experienced the loneliness of serving overseas in harm's way and being far from their families. They wanted to establish an association to assist all Vietnamese American service members and their families to cope with the separation and loneliness.
Both of them, along with Army Sergeant Thao Bui, Army Captain Triet Bui, and Air Force Captain Hien Vu met at CPT Bui's home and began drafting the by-laws and articles of association for the Vietnamese American Armed Forces Association (VAAFA) on August 23,
2008.
VAAFA received official recognition from the State of California on September 15, 2008. The
Association held its installation banquet on May 31, 2009.
In September 2014, the association changed its name to the Vietnamese American Uniformed Services Association (VAUSA) to include the two non-combatant arms of the Uniformed Services – U.S. Public Health Service Commissioned Corps (USPHSCC) and National Oceanic Atmospheric Administration Commissioned Corps (NOAACC).
In December 2019, VAUSA added the newly established U.S. Space Force (USSF) to its
Association.
The membership is growing, and the Association continues to foster an environment for its members to reach their fullest potential, support VAUSA families, and honor the legacy of its Vietnamese lineage.
LEADERHIPS AND KEY OFFICERS

Tuan T. Ton,
COL, USA (Ret), Chairperson

Lori Luu,
CAPT, USPHS,
Board member

Khanh Nguyen,
1stSgt, USMC,
Board member

Thomas Nguyen,
LTC, USA (Ret),
Board member

Richard Nguyen,
LCDR, USN (Ret),
Board member

Antoine Nguyen,
COL, USA (Ret), Board member

Paul Ung,
LTC, USA (Ret), Board member

Tino Dinh,
Capt, USAF (Veteran), Board member

Cuong Le,
SSG, USA (Veteran), Board member

Phuong Nguyen,
LTC, USA, Executive Director

Kelvin Ngo,
SFC, USA(Ret), Dep Director for Financial Management